Dates: 05/08/2019 - 05/15/2019.
Natural Caribbean beauty collides with next-level contentment in the unspoiled strip of 365 islands and cays that make up the Exumas. Sitting pretty in the off-the-beaten-path "Out Islands" of the Bahamas, this 120-mile-long archipelago is nothing short of amazing.
The Exuma Cays — an uncrowded cruising oasis rich in laid-back Bahamian charm — or, embrace an undocked holiday without limits and spend a day exploring Great Exuma island, home of iconic Georgetown Harbor.
The exotic strip of deserted beaches and idyllic anchorages dispersed throughout the Exumas provide an optimal setting for a 5-Star yacht charter holiday. From the sparkling turquoise waters to the pleasant trade winds and favorably-warm tropical climate, the Exumas boast desirable conditions all year long. Between September and May, the temperature ranges between 70-75F but the rest of the year, the average is around 80-85F. The topographical makeup of the Exumas offers easy-to-navigate cruising grounds, allowing novice charterers and veteran sailors alike to capture an uncommon holiday in an unforgettable destination.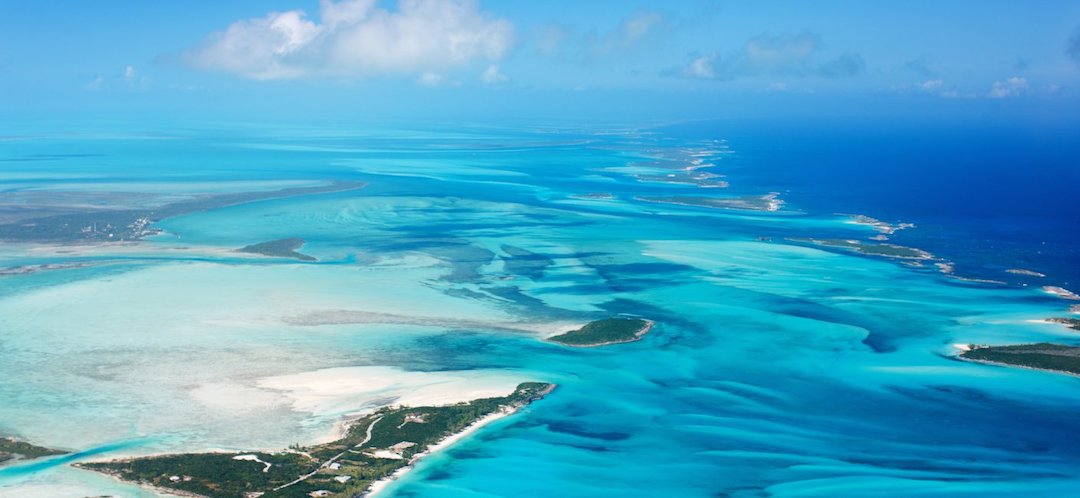 Day 1. Highborne Cay
Highborne Cay is an idyllic location for an overnight stay. Spend the day kayaking or snorkeling at Horseshoe Bay's uninhabited beach, which also harbors the splendid "Octopus Garden" reef below the surface. Take the dinghy about one mile north-west to nearby Allan's Cay where you'll be welcomed ashore by the friendly three-foot iguanas at Leaf Cay beach, a superb spot for snorkeling. Back at Highborne Cay, enjoy a cocktail or have dinner at the hilltop restaurant for breathtaking 360-degree views of unspoiled paradise as the radiant Caribbean sun sets in the background.
Day 2. Norman Cay
The pristine coral reef that surrounds Norman's Cay and its neighboring islets make it one of the most incredible places in the Exumas that you simply must see for yourself. The conditions are impeccable for all your favorite saltwater activities, or, if you're in the mood for maximum relaxation, this prime location is also perfect for sun-drenched leisure. The remains of a plane crash can be found on the southwest point of Norman's Cay, where you can explore the sunken ruins that are now a natural habitat for an array of colourful tropical fish and vibrant coral. And at just 10-feet deep, this is a first-rate snorkelling spot. Nearby, there are plenty of seashells to collect as you stroll along Twinkie Beach, home of the lone palm tree.
Day 3. Great Guana Cay
Even though Great Guana Cay is without moorings, it is one of the largest anchorages in the Exumas. Well-protected and easy to approach, Great Guana Cay offers a genuine "Out Islands" experience. The locals at Black Point Settlement will make you feel right at home in their quaint little town. Immerse yourself in the friendly island culture, feast on traditional Bahamian cuisine, and admire the handwoven palm leave baskets made by the settlement women. You can even order homemade bread from Lorraine's Café and pick it up the next morning.
Day 4. Lee Stocking Island
This little Exumas gem is most famous for the Perry Institute for Marine Science that once thrived there but has since been abandoned due to lack of funding. During your overnight stay at Lee Stocking Island, be sure to hike to Perry Hill to enjoy breathtaking views from the highest "peak" in the Exumas, which is actually only 100 feet above sea level. The surrounding clear-blue waters in this anchorage are a hot-spot for conch hunting and a prime location for snorkelling, kayaking, and stand-up paddle boarding.
Day 5. Staniel Cay
Staniel Cay earned its claim to fame after providing the splendid backdrop for two James Bond movies. In fact, the spectacular underwater cave system located just west of Staniel Cay was named "Thunderball Grotto" based on its feature-film debut. This must-see snorkelling and diving site is riddled with vibrant heads of coral and abundant marine populations. In the evening, make reservations at the Staniel Cay Yacht Club to enjoy an elegant dinner onshore at this charming harbour full of life and island flair. Golf carts are available for rent at the marina if you wish to explore by vehicle.
Day 6. Warderick Wells Cay
As the headquarters of the 176-square-mile Exuma Cays Land and Sea Park, and the largest underwater sea park in the Caribbean, Warderick Wells Cay is a premier anchorage submerged in protected waters. There are 20 marked nature trails to explore on land and 20 secluded beaches located throughout the island's border. Both the hiking and snorkelling are unmatched at Warderick Wells Cay, where breathtaking scenery reigns supreme and nature's beauty abounds thanks to the highly-protected Exuma Cays Land and Sea Park.
Day 7. Shroud Cay
Also part of the Exuma Cays Land and Sea Park territory, Shroud Cay is an uninhabited archipelago of rocks and white-sand beaches that boasts an enchanting channel of mangroves. The sheltered coves serve as an idyllic home for conch, lobster, sea turtles, and other various marine creatures. There are numerous sandy-bottom creeks and estuaries to explore by dinghy and Camp Driftwood Beach offers a lovely lookout point with a unique story. Being at Shroud Cay feels like having a deserted island all to yourself.
Bali 43 2019. The BALI catamarans range has a unique and recognizable DNA. The BALI Catamarans are the result of the R&D department of the CATANA shipyard, a legendary brand renowned for its high-performance and top-of-the-range catamarans. The BALI catamarans are known and appreciated for their rigid front cockpits with lounge and sunbathing areas, the platform connecting the two rear skirts with large bench and trunks, the large tilt-and-turn door and sliding windows as well as a panoramic relaxation area on the roof. BALIs are much more than catamarans, they are witnesses to life experiences and sharing.
Transportation Terms and Conditions :
7 days of impressions and life sailing on a yacht – immersion into sailing livestyle.
professional skipper services

professional photo and videography during the trip

final cleaning of the yacht

bed linen, towels

Outboard motor for boat

food on yacht

limited bar on yacht

Food and limited bar on yacht are included
diesel, marine charges and marine park permits are included
The program is preliminary and can vary depending on the weather conditions or the wishes of the crew.
You need to get in and out of the boat.
Dates of the trip are tentative at the moment and will be confirmed shortly.
Please contact Navigator Travel before buying air tickets.