Unlike in other sailing cruises, here, at Mallorca you will see that you do not have to travel to the far end of the world to enjoy stunning landscapes and immerse yourself in vibrant culture and history. A mere 55 minute flight away from Barcelona, or 1 hr and 20 minutes from Marcelle to the island of Mallorca and you will be ready to start your adventure!
It makes simply a perfect sailing vacation destination onboard a comfortable yacht with short passages, calm water well protected from the strong winds, and multitude of magnificent bays and beaches. Let alone, the tour of the island's heart – Palma De Mallorca.
Due to the unique position of Balearic islands, for centuries Mallorca island has been an important sailing and trading forpost set at the crossing of busy Mediterranian trade routes. Its location has sealed its destiny as an important commercial, cultural and economic center for quite a few centuries. Unlike in many sleepy archipelagoes, people living here simply could not enjoy a peaceful and quiet life.
The location promised bounty to anyone who would control Mallorca and the waters around it. So its population had to build, expand, fight, accept the rule of invaders, adopt new customs, and negotiate.
The colorfull past of Mallorca and its people can be seen in its architecture, art and, of course its cuisine! Travellers, warriors, mercenaries and merchants sailing the Mediterranean from about every corner of known then world settled here and shaped its history.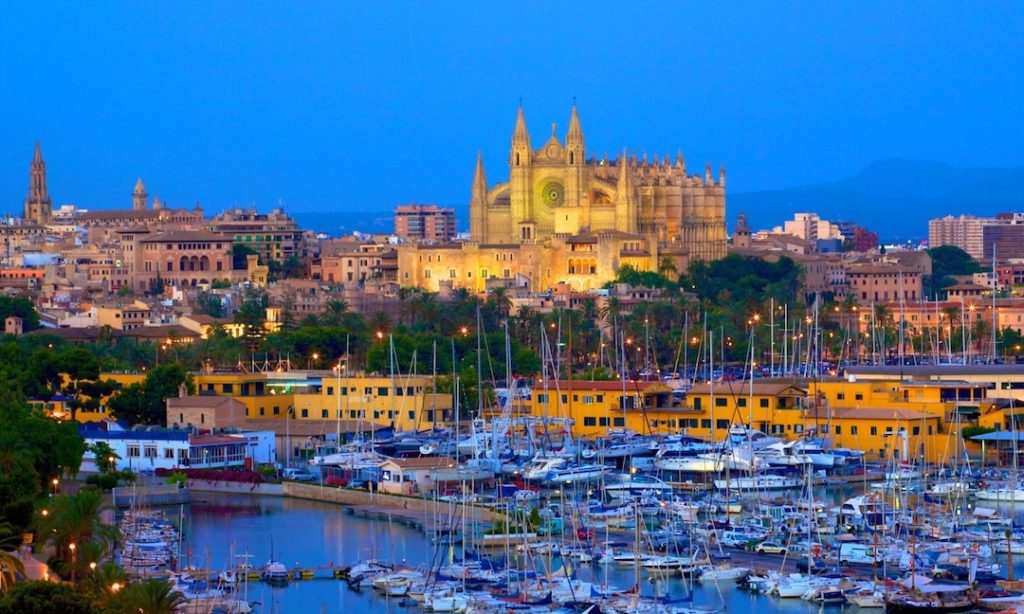 First of all, where are we headed Mallorca or Majorca?
In the middle of preparation for the tour, at some point you will be running into both names: Mallorca and Majorca. It is easy to assume that Majorca is probably just another island in the same area. To save you from confusion, let's set it all straight.
Mallorca is the word used both in Spanish and local Catalan, where "ll" is pronounced close to j. Majorca is, often, the version used in the British English. Some say, it even comes from the Latin language, as in Major (or bigger) attributing the word more of a meaning. So it is the same place after all…
When is the best time for your sailing cruise to Mallorca?
Mallorca enjoys a mild Mediterranean climate with the Mediterranean sea keeping its temperature stable and warm in winter and the continental land mass heats up the air in summer, while fresh breezes from the sea make it feel a lot more tolerable. Almond, orange, lemon and olive trees thrive here and not only add to its unique landscape but are grown commercially and still are a great export commodities.  
August is about the perfect time for sailing onboard a charter yacht around Mallorca with its promise of sunny weather, really enjoyable water temperature. As the summer turns to autumn, the winds pick up just enough to enjoy sailing.  
Palma De Mallorca
If you have arrived to Mallorca island to enjoy a sailboat cruise, you probably already are looking forward to seeing its picturesque coastline and enjoy a dip in its warm waters right off the yacht(especially August weather in Mallorca is great for that). But, certainly, you will have to see its main city – Palma, steeped in history and rich multicultural traditions.
Palma de Mallorca, the island's biggest city and important seaport for many centuries, is located in the southwest of Mallorca, in Badia Palma, or Palma Bay in local Catalon language. In Roman times the city was called Palmeria. You can still see the walls of Roman citadel under La Seu. Walking the streets of the city one can vividly see its entire history embedded in its cobblestone paving, masonry, building walls, architecture and intricate design elements.
The city lived and flourished through the Roman period, Byzantine Empire, Moorish (Muslim period) and back under the Spanish rule.  Exploring this fabulous city is energizing, inspiring, and is full of discoveries and surprises.
Things to do in Palma De Mallorca
The Cathedral of Santa Maria de Palma more commonly referred to as La Seu (as also a few spanish Cathedrals). Whether you are approaching the city from the sea, air, or already walking its streets, the magnificent 44 meters high frame of the building rises high above everything. The construction was started by King James I of Aragon in 1229 to glorify his victory over moors,  but only finished in 1601.  As the construction lasted over the centuries it started off as gothic, continued through the Renaissance, Baroque, Neo Gothic, with the latest additions by Antonio Gaudi in his distinctive Art Nouveau technique. Since it has been constructed over the remains of the imposing mosque that has occupied the square before – its alter is still oriented towards Mecca, as in the original building's plan.  Castell de Bellver is a magnificent, well preserved castle built for King James II of Mallorca in the 14th century. It is believed  that its distinctive round shape is inspired by Herodion in the West Bank.
It did survive successfully 2 attacks in its time (in1343 and 1391), proving that it's design is also practical. In fact, the round shape is perfect not only for pleasing the eye but when it comes to warfare. It is much easier to defend, and impossible to undermine the towers or walls as there are essentially no corners or angles, which are usually a weak point).
Royal Palace of La Almudaina is still used by the King of Spain. This unusual building was a slight adaptation of a moorish fortress built in 1281. It still contains a few original rooms (baths and hot and cold rooms)
You will find the historic buildings inevitably captivating, but its bustling urban life is equally exciting and you will find yourself wanting the old narrow streets live with bars and little cosy shops. At some point we must head off to the sea…
Port d'Andratx
As we will be approaching the quaint ancient town of Andratx (in Roman times called Andrachium) you will see that it is slightly recessed inland. No wonder – its splendid location was frequented by pirates. Its 14 towers, of which 12 are still standing, are a reminder of those turbulent times.
Now its picturesque harbour is dotted with expensive villas and vacation homes, where the rich and affluent are no strangers. The cosy harbor houses a well appointed modern marina. It is one of the best kept secrets of Mallorca!
On the way to port d'Andratx we will catch a glimpse of distinctive uninhabited Sa Dragonera Islet, with an ancient watchtower lighthouses and an ancient Roman acropolis. It is now a wild nature preserve and open to tourists, a great place for hiking, if you ever looking for a great hiking spot around Mallorca. A part of the set of a 1982  Agatha Christie's mystery Evil Under the Sun was filmed in this dramatic location.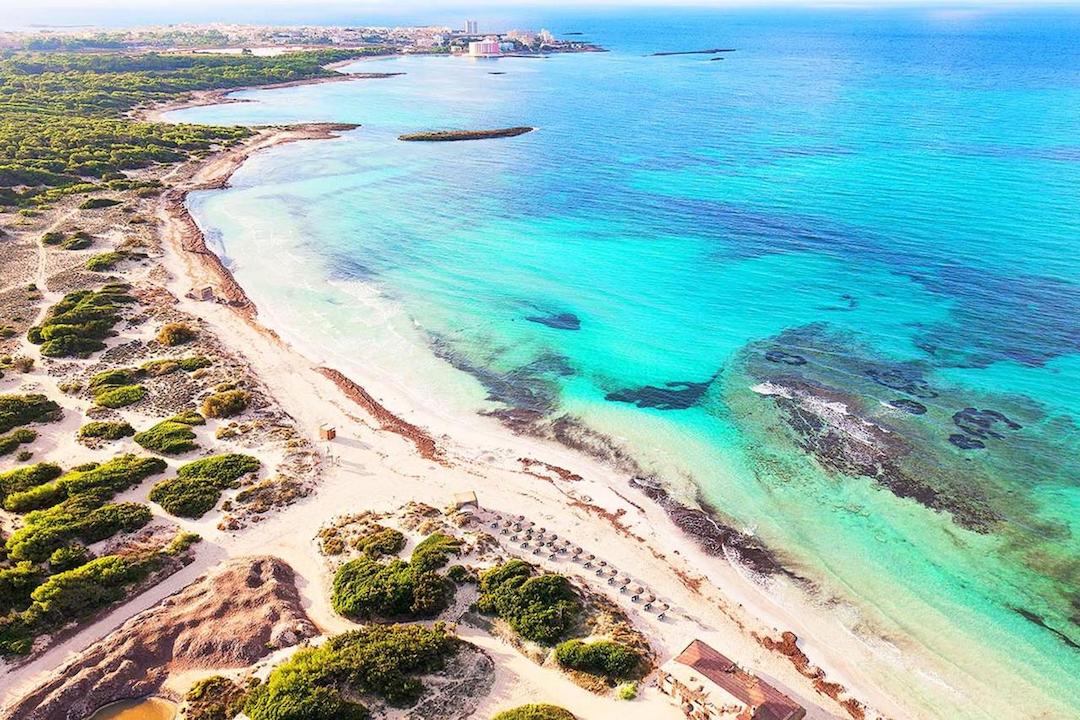 Sa Rapita
At Sa Rapita, you will not find the usual summer crowds of tourists. It is more of a place for those who like to roam away  from the crowds, or charter yacht explorers just like us. It is a bit off the main roads, which makes it great for discovering by the boat.  This is the closest city to one of the best beaches in Mallorca, Es Trenc.  
As many other towns in Mallorca Sa Rapita was also always ready for pirate attacks.The watch tower of 'Son Duri' that you can see now in the port at the Club Nautic de Sa Rapita, was a part of the tower system across the entire Mallorca coastline. Once pirate sails were spotted on the horizon – the fire signal was transmitted from tower to tower all the way to Palma. This efficient system existed from 16th up until as recent as the 19th century.
Now with the pirates gone, Sa Rapita is simply a perfect spot to enjoy after a short passage!
Port de Soller
Port de Soller is known for its picture-perfect welcoming horse-shoe shaped harbour. Separated from the rest of the island with Tramuntana Mountain Range, for most of its history, the town was connected to the rest of the island only through the sea routes. Only in 1912 the train tracks between soller and Palma were built, and later the tunnel for cars.
The old part of the town is dominated by impressive St. Bartholomew basilica on plaza Constitucion. There are a few museums and simply pleasant places to enjoy a casual stroll:
Museum Can Prunera where you can admire works by Picasso, Kandinsky and Warhol
Balearic Museum of Natural Sciences (Museu Balear de Ciències Naturals)
The Botanical Garden (Jardí Botànic)
There is a lot of hiking routes in the neighbourhood. Ravine of Biniaraix (Barranc de Biniaraix) can may just be one of the most breathtaking hiking routes in Mallorca.
If you happen to be here on Saturday it is a market day in Sóller.
Porto Cristo  
The small fishing village is located between Costa de los Pinos and Cala Murada, with entry to the bay protected by a large rock Es Morro de Sa Carabassa. It is another off the beaten path destination. The name Porto Cristo dates back to 1260, when the whole island of Mallorca was coming under catholic protection and islamic rule was expelled.
Unlike most of the towns in Mallorca deriving most of their income from flourishing tourism, Port Cristo is a traditional Spanish fishing village. The naturally well protected harbor shelters many of the fishing boats in the stormy weather.
One can't help admiring the striking colour of the crystal clear aquamarine waters of Porto Cristo bay. The main tourist attractions are two sets of caves:
Coves del Drach  (Dragon Caves)  – it is the chain of 4 interconnected caves – Black Cave, White Cave, Cave of Luis Salvador, and Cave of the French, stretching across 4 km in length. There is also impressive underground Martel lake, 115 by 30 m, named after Edouard-Alfred Martel, the father of speleology.
Coves dels Hams. You can navigate the smaller but picturesque Coves del Hams (named inspired by  the resemblance of stalactites and stalagmites with fishhooks, hams, in local dialect of Mallorqui) in a rowboat, or take a 500 meter stroll. One of the caves popular attractions are  "Magical Mozart" concerts complete with a light show.
The authorities of Porto Cristo make a significant effort to preserve the village heritage and unique character.
Cala Figuera
If you truly wanted to feel what life in the traditional fishing village looks like you have to spend at least a day at Cala Figuera. Most likely, by the time you get here, the fishing boats will be back with their catch and you will only see the fishermen mending their nets and getting ready the boats for the next day's catch.
The nearest beach to the village  is only 4 kilometers away, so it has not been spoiled by tourists. Cala Figuera's streets are known for some of the oldest and best preserved buildings in all of the island of Mallorca.
Of course, one of the perks of a fishing village is the bounty of fresh fish and delicious seafood in its quaint and cozy restaurants. The setting of Cala Figuera is simply beautiful with its whitewashed houses as if descending towards the sea from the green slopes.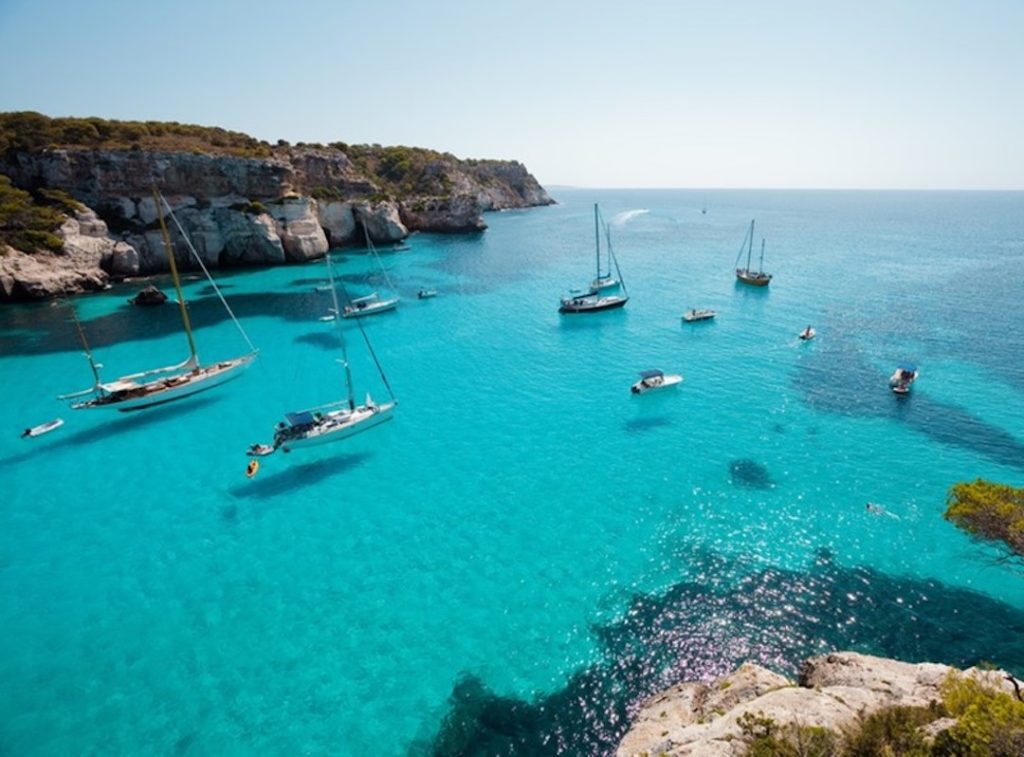 Cabrera National Park
The island of Cabrera is the largest of little 11 island archipelago, that is now entirely a part of Cabrera National park. Its remote location was used for military campaigns from the times of Hayreddin Barbarossa to the past century but were far too remote to settle even for the fishermen.
The absence of human activity have turned this area into a safe haven for wildlife, with many species endemic to the area. At any time there are under 100 people of staff of the natural reserve. The visiting sailboats are allowed to anchor only in designated area.     
It Cabrera island is certainly is one of the best destinations for hiking in Mallorca with the ruins of old watchtower and lighthouse as the only signs of past human activity – everything else overrun with rare black lizards and birds.
You need to get a license for diving , and it is good for one day only. A stopover at Cabrera is a perfect getaway from your getaway on Mallorca.
Once your sailing trip to Mallorca is getting close to its end, you will realize that you just had one of the most memorable adventures that included everything that even a seasoned traveller would look in a vacation: narrow medieval streets steeped in history, marvels of architecture, picturesque bays with quaint fishing villages, sandy beaches, pristine waters and beautiful nature.
We at Navigator Travel love coming back to Mallorca at least once a year, check out our charter yacht trips schedule look out for our custom tailored trip to Mallorca!