Dates: 12/12/2020 - 12/19/2020.
With so much to offer around Grenada, you could spend the entire week cruising around Grenada and nearby islands. Enjoy days filled with snorkeling and diving, as well as outings ashore to enjoy the many great restaurants and bars, sandy beaches, fun shopping and inland tours through rum distilleries, spice plantations, rainforests and waterfalls. As gateway to the Grenadines, Grenada's southernmost location in the Windward Islands also opens the door to one-way charters through more challenging open-water passages, allowing you to experience the beauty of other points of interest in St. Vincent, the Grenadines and St. Lucia.
Day 1. Dragon Bay
After a nice day of reaching down the islands, pick up a government mooring ball in Dragon Bay. Enjoy some amazing snorkeling at Moliniere Point, and if you are into diving, be sure to arrange a dive at the underwater sculpture garden, which is rumored to be home to a family of black and red sea horses.
Day 2. Carriacou
Sailing into Carriacou, stop into the town of Hillsborough. Built on a wonderful beach, the town offers charming seaside dining and just a short walk from the docks, the museum features an eclectic collection of artwork and historical pieces. If you're seeking a taste of the local culture, be sure to stop into one of the many rum shops or watch the locals build boats by traditionally by eye on the beach. Before heading for Tyrrel Bay stop at Sandy Island for lunch, great snorkelling spot, sunbathing, beach combing and to chill out. Over-night around the corner at Tyrell Bay, and enjoy a drink at the Tipsy Turtle in Tyrell Bay.
Day 3. Union Island
Complete customs and immigration clearance out of Grenada; then enjoy a nice sail across to Union Island, which is part of St. Vincent and the Grenadines. Arrive in Clifton Harbour, Union Island to clear into St. Vincent. Clifton is the island's main town and a bustling small port that's full of color where you're welcomed by warm, friendly islanders. The roads and trails offer some of the best hiking and biking in The Grenadines. Be sure to get a drink on Happy Island, an island made entirely from conch shells.
Day 4. Tobago Cays
The five deserted isles of the Tobago Cays are the jewels of Tobago Cays Marine Park, which comprises the surrounding waters as well. Horseshoe Reef nearly encircles the four main cays, and beyond its protective embrace is Petit Tabac. One of the premier snorkelling and diving locales within the Grenadines, and the entire Windward chain, for that matter, it's no surprise that Tobago Cays cruising is a highlight of exploring these waters.
Day 5. Petit Martinique
Sail over to Petit Martinique, Grenada's northern most island. It's a great place to come ashore to replenish water, alcohol, ice and more. Many of the residents here live by boatbuilding, and Petit Martinique is famous for its plywood speedboats. For great snorkeling and exploring, Fota and Petite Dominique are within range of a seaworthy dinghy. Be sure to stop at Mopion for lunch on your way! Mopion is surrounded by amazing reefs to dive, and is known as the world's smallest island with a structure.
Day 6. Prickly Bay
Enjoy your day at Prickly Bay, which is known as one of the best anchorages amongst cruisers. Customs and Immigration is available at the yacht club right in the anchorage, however if you choose to stop in Hillsborough, Carriacou to clear in, there is no need to revisit customs in Prickly Bay. Enjoy live steel drum band music from the yacht club's bar. Consider organizing a land tour into the rain forest and cool off in one of Grenada's many waterfalls.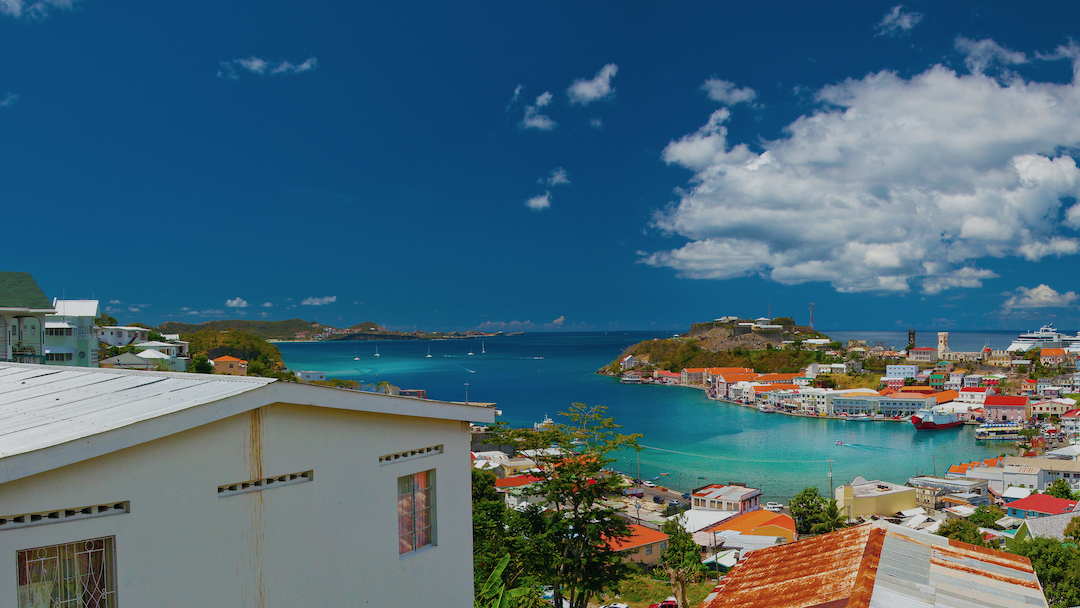 Day 7. St. George's Bay
Sail into St. George's Harbour to finish your charter at Port Louis Marina. After completing the check out process with the staff, take some time to explore St. George's. This capital city of Grenada is a gem of the 18th century with colonial buildings crowned by orange fish-scale tiles that mingle between multi-coloured homes along an emerald green backdrop. Stroll along St. George's narrow streets, perusing the shops and smelling aromas drifting from the area's many great restaurants and bars. Stop by Bay Gardens, and marvel at over 3,000 species of Caribbean plants.The Carenage along the inner harbour is perfect for a scenic waterfront walk and on Saturdays, the place to be is St. George's Market Square. Overlooking the harbour to the west, Fort George is an area landmark built in 1705 that offers spectacular hilltop views and is open to visitors. Now, it's time to start planning your next Navigator Travel vacation!
Lagoon 450: SEEING BIGGER
The VPLP architects, in partnership with Lagoon and the celebrated Nauta Design studio, have been brilliantly successful in creating the 450.
– in terms of accommodation
– deck areas
– facilities
– performance
Transportation Terms and Conditions :
7 days of impressions and life sailing on a yacht – immersion into sailing livestyle.
professional skipper services

professional photo and videography during the trip

final cleaning of the yacht

bed linen, towels

Outboard motor for boat

food on yacht

limited bar on yacht

Food and limited bar on yacht are included
diesel, marine charges and marine park permits are included
The program is preliminary and can vary depending on the weather conditions or the wishes of the crew.
You need to get in and out of the boat.
Dates of the trip are tentative at the moment and will be confirmed shortly.
Please contact Navigator Travel before buying air tickets.