Dates: 07/09/2020 - 07/09/2020.
In the heart of the Atlantic ocean, some 1000 miles from Lisbon, lies the pristine paradise archipelago called the Azores islands.
Navigating the Azores waters on a sailboat is a truly mystical experience. As you circumvent one of the beautiful islands, you will be treated to a mesmerizing image of lush green landscapes descending into crystalline clear ocean waters sparkling in soft sunlight.  The journey is interspersed with lagoons and beaches nestled among the island's natural curves, offering rest, shelter and relaxation as well as promising an unforgettable diving experience.
Cruising around Azores islands is a one in a lifetime experience, one that no other place on the planet can truly match. The kaleidoscopically changing landscape is rich with vibrant vegetation and majestic volcanic scenes that tell the story of the archipelago's tumultuous birth. A birth that gave life to the best kept secret in the Atlantic Ocean – the nine Emerald Islands.
Join us on a journey to a true miracle of nature created four million years ago in a series of volcanic eruptions and home to a plethora of joys and pleasures. Sail, bathe, dive, hike and climb in this unforgettable tour to one of the most breathtaking points on the planet.
Day 1. HORTA, FAIAL
The cosmopolitan town of Horta has in its marina a reference point to the Azores and the World, being a mandatory port to all the yachtsmen crossing the Atlantic. The paintings that make the walls and floor of the marina are the testimony of its passage, to recall years later, or because it says that the sailors who do not draw a painting will not reach its destination. You can buy painting kit and paint leave your unique art on the quay of Horta.
Day 2. SAIL TO VELAS (SAO JORGE ISLAND), 22 MILES AND VISIT VELAS/SAO JORGE
Be amazed by arriving at the unique natural setting of Velas Marina, sheltered by huge cliffs of 200 m. Discover the enchanting towns of Velas and Calheta and cross the thin (8 km) but steep island (300 m) to visit some of its more fabulous fajas (low tongues of lava at the bottom of steep volcanic cliffs), Cubres, Ouvidor and, especially, Santo Cristo, a unique natural lagoon ring-shaped, that is now becoming a surfing sanctuary. Must visit: Town of Velas; Fajã dos Cubres, Fajã do Ouvidor and Fajã de Santo Cristo.
Day 3. SAIL TO ANGRA DO HEROISMO (TERCEIRA ISLAND), 49 MILES
Enjoy a full day of sailing and cross your fingers for an amazing ride shared, for sure, with dolphins and, perhaps, turtles and whales! You won't be the first lucky one.
Day 4. VISIT TERCEIRA ISLAND
IOnce in Angra do Heroismo, get yourself lost in the immaculate and well preserved streets of one of the most historical cities of Portugal and a UNESCO World Heritage site. Still, Terceira does not end in the unique charm of Angra. You must drive along the green leaves of a truly stunning landscape towards the Algar do Carvão caves, with its magnificent stalagmites, stalactites and a lake. And by the way, Terceira is the land of joy and excitement in the Azores. If there is a traditional bullfight, on any of its many villages, don't lose it, even if you are not fond of bulls and fights. It's a local social event, full of regional flavors. Must visit: UNESCO city of Angra do Heroismo; Algar do Carvão caves.
Day 5. SAIL TO LAJES DO PICO (PICO ISLAND), 54 MILES
Enjoy another full day of sailing and admire the natural beauty of Pico's rough south coast before entering the birthplace of the Azorean once legendary whale industry, Lajes do Pico.
Day 6. VISIT PICO ISLAND
Organize yourself. One day to visit Pico is the least you can do. Start in heart of its ancient whaling culture, visiting the Whalemen's Museum at Lajes do Pico and starting contouring the island along its coastline towards the unique Landscape of the Pico Island Vineyard Culture, a UNESCO World Heritage Site. Continue through the coastline and you will be amazed by roughness of its magma setting. Once in São Roque do Pico visit the Whaling Industry Museum and start climbing the mountain back to Lajes do Pico, stopping at the altitude lagoons of Capitão and Caiado. Must visit: Landscape of the Pico Island Vineyard Culture; Whalemen's Museum at Lajes do Pico and Whaling Industry Museum at São Roque do Pico; Capitão and Caiado Lagoons.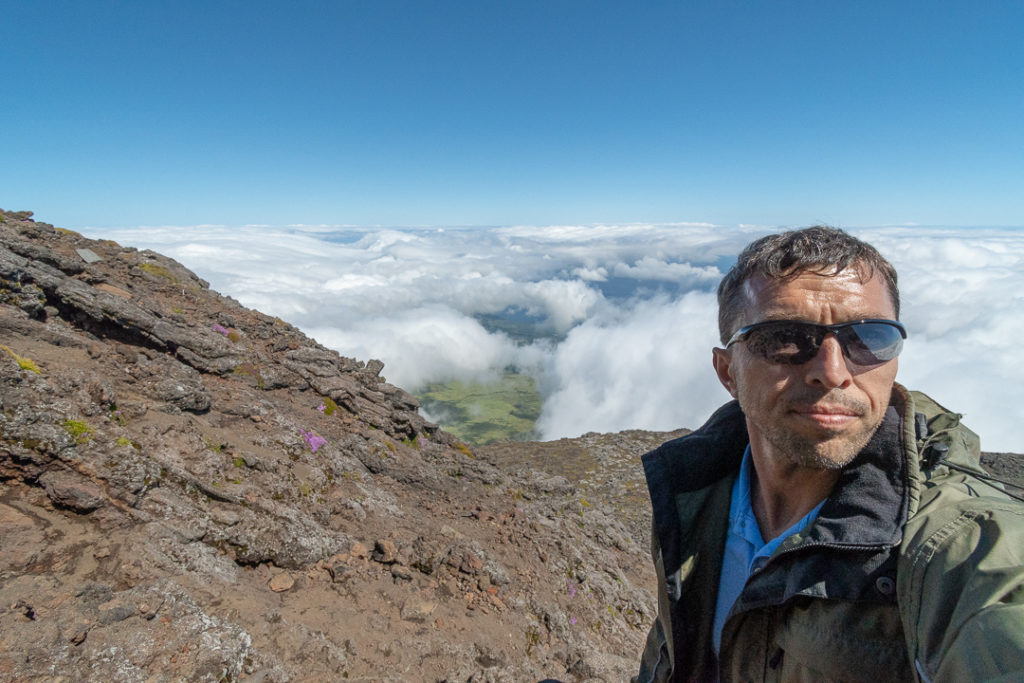 Day 7. SAIL BACK TO HORTA (FAIAL ISLAND), 21 MILES
Arrive at Horta Marina and get yourself a well-deserved last night on board, along a mythical Gin at Peter's Café Sport to celebrate a full week of sailing while travelling and discovering the wonderful Azores. But don't forget, Faial is not only about yachts, the Marina and Horta. Don't leave us before admiring the Caldeira Volcano, a deep crater of 2000 X 400 meters and Capelinhos Volcano, an almost lunar and arid landscaped of 3 square km conquered to the sea by more than 300 explosions and earthquakes in 1957. Do not forget to buy painting kit and leave your unique art on the quay of Horta. Must visit: Caldeira and Capelinhos Volcanos.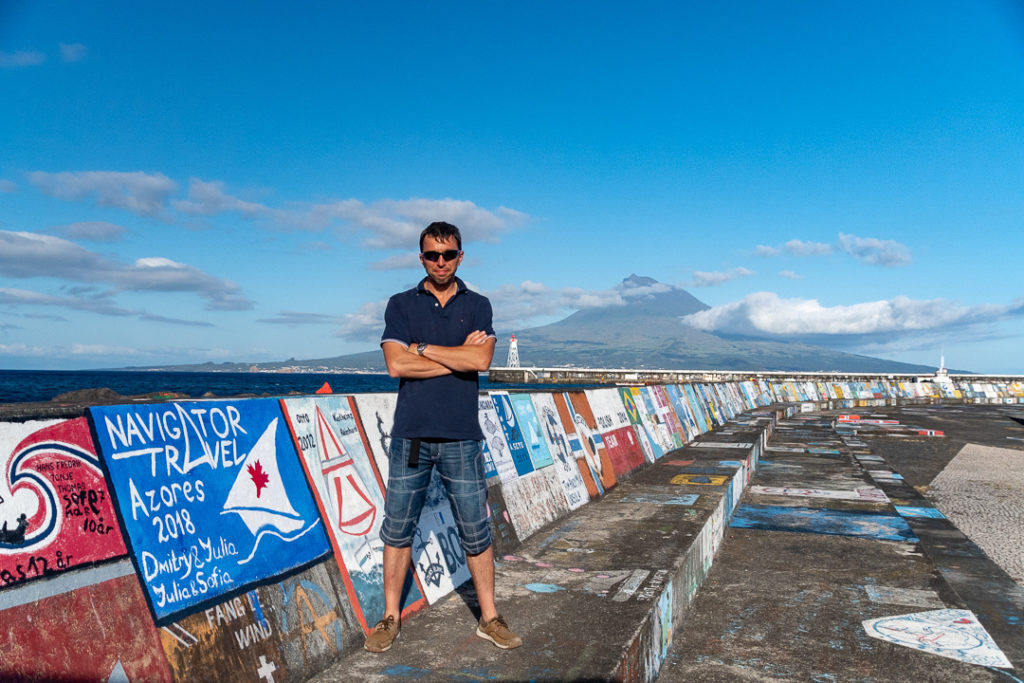 Dufor 460 Grand Large – AN ARCHITECTURAL MASTERPIECE
Result of an intense collaboration between architect Umberto Felci and the Dufour Yachts' Design Office, the Dufour Grand Large 460 is an exceptional cruising yacht. It succeeds in seducing sailing enthusiasts who want a model with three or four cabins and also affirms itself as a new reference in the 45-foot yacht category.
Deserving its status as the latest member of the range, this yacht combines exceptional performance and pure comfort.
Transportation Terms and Conditions :
7 days of impressions and life sailing on a yacht – immersion into sailing livestyle.
professional skipper services

professional photo and videography during the trip

final cleaning of the yacht

bed linen, towels

Outboard motor for boat

food on yacht

limited bar on yacht

Food and limited bar on yacht are included
diesel, marine charges and marine park permits are included
The program is preliminary and can vary depending on the weather conditions or the wishes of the crew.
You need to get in and out of the boat.
Dates of the trip are tentative at the moment and will be confirmed shortly.
Please contact Navigator Travel before buying air tickets.